2005-08-14:

Save a penny, walk three miles

Our plan today was to go to Banbury. There was a celebration of the 60 years since Japan gave up not far from here at Winston Churchills birthplace, but at 11 each to enter and the cost of getting there we ruled that out. The same for a folk festival somewhere about. Too hard to get to without a car. So we settled on the town of Banbury.

We decided to try to save ourselves a few pounds to get to Oxford. Edyta had been eyeing off the walking trails a few time. So we packed warm gear (yesterday had taught us to over-prepare in this country) and off we set. We walked along the A34. The main roads are noisy here, they use concrete rather than ashphalt. There was no talking as we tramped along.

By Gosford, after walking for about an hour we saw the first bus stops that we were aiming for. Then we saw a bus that we could have caught go by. Disheartened we went to the bus stop to see that the next bus was due in 40 minutes, so I decided we should walk on to the Water Eaton park and ride. Edyta wasn't keen but I didn't think it was too far ahead. So off we set. And then we saw another bus go past the bus stop behind us. Sigh.

We stopped in a Sainsbury to make some lunch for ourselves. I found a flavoured milk! In the end it tasted like ice cream topping mixed in with water but that wasn't a problem as I used to make them many times in my childhood.

After more trekking along we made it to the Park and Ride. It was there that we discovered that the Park and Ride only operates Monday to Saturday. Oh well, out with the mobile and call to the City Taxi company saw us ride the rest of the way back in by taxi. The worst part was we got in at 1pm, a little weary and £11 worse off (only 4 cheaper than having taken the taxi the whole way). We jumped on the train and travelled off.

The trains in England are operated by different companies. They have toilets on board, food stalls and first class options. You can even reserve specific seats. Which is needed, because the trains get crowded quickly.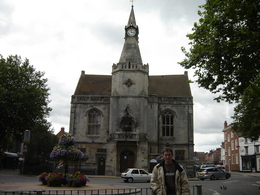 Round-a-bout in the town
About one in the afternoon we departed at Banbury. The city at first just looked like another dirty little working city. However over the main road we were in to the shopping district and discovered the charm of the town (and according to Edyta it's similarity to Poland). The buildings were tall along narrow winding streets. There were older buildings here than Swindon. There was one church where there were gravestones so old the dates and writing on them had worn away. This church also inspired or had the gravestone of the author of Gullivers travels.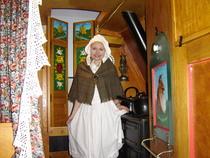 Dressed to impress
Another charm of Banbury is that it is the heart of the canal's in England. Narrow long boats traverse up and down these canals that were built for transportation. The process today is much like house boating up and down the Murray, except the boats are barely over a metre and a half wide. We read details about it in the local museum and even got to watch a boat going through a lock.
On return we decided to just take a taxi; walking has dropped out of favour it seems. I was asked the directions to Gloucester Green (the bus station) and gave the wrong ones and then missed the turn-off myself and then the first person I asked didn't answer or have a clue. While hunting for dinner a beggar with as many coins in his hand as I had in my wallet was asking for money. That has to give you a moment to pause, except that by pausing he may have thought we were going to give him something. And we were hungry and needed our money, so we scurried past him. Beggars in Oxford, honestly! He should have just been a student, then poverty is accepted.
Back at Oxforshire Inn we found that the tea cups still hadn't been cleaned. Taking decisive action I grabbed the offending crockery and marched into the front bar where I was politely given new cups and tea bags and asked if we needed other supplies. Damn pleasant English!
Off to an early night. More money and moving tomorrow for we are off to London!
| | |
| --- | --- |
| Canal in the middle of town | Gravestone of Gullivers Travel |